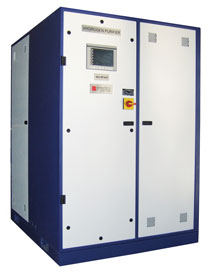 Product Description:
The Peak Scientific Hydrogen Generator delivers high purity gas, with reliability and safety built in to every component.
The 'cylinderfree' systems have many unique features, making them the preferred choice of laboratories requiring reliability and quality.
Using ION exchange membrane technology, originally developed for NASA, the generator required only deionised water (loaded automatically) to produce a constant supply of hydrogen.
Technical Specification:
Max Flow Rate (ATP): 200cc/min
Purity: 99.9995%
Delivery Pressure: 0-100psi
Gas Flow Indicator: Yes
Dual Pressure Safety: Yes
System Check: Yes
Leak Detection: Yes
Caustic Solution: None
Water Purity Required -
Conductivity: <1.0µS/cm
Resistivity: >1.0MOhm-cm
Outlet Port: 1/8"
Electrical Requirements: 230V 50Hz / 115V 60Hz
Dimensions (HxWxD): 38.5 x 35 x 39 cm
Weight: 22 kg
Service Plan Notes:
Standard
Applications Supported:
Analysers: _SHOW ALL, THA,
Gas Chromatography: GC-ELSD, GC-FID, GC-FPD, GC-NPD, GC-TCD
For more information
Sales brochure - CFH200
Sales brochure - CFH200 - Print Version