Oxygen Analyzing Products:
DF-560 NanoTrace II

DF-550 NanoTrace

DF-310E

DF-320E

DF-330E

DF-340E

DF-370E

DF-110E

DF-130E

DF-140E NEMA 4X
DF-150E

Series 500 Breathing Air Monitor

Moisture Sensing Products:
DF-760 NanoTrace Dual Mo. and Oxygen An.

DF-745 NanoTrace Mo.An. 2 ppb LDL

DF-740 NanoTrace Mo.An. In Ammonia

DF-730 NanoTrace Mo.An. In HCI

Ultra High Purity Gas Cromatographs:
Ta3000F Gas Purity Monitors

Ta3000R Gas Purity Monitors

Ta5000R Gas Purity Monitors

Ta5000F Gas Purity Monitors

DF-140E Oxygen Analyzer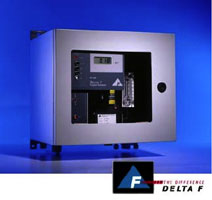 Superior Oxygen Analysis for Harsh and Hazardous Environments
The DF-140E features:
Long term reliability and stability
Durability - can be used in Class I, Division 1 or 2 areas
Low/No maintenance
STAB-ELT option allows for accurate measurement in the presence of acid gases
The DF-140E allows for reliable oxygen measurement in a wide variety of environments, including outdoors and in explosive environments with a NEMA 7 remote sensor enclosure. Using the revolutionary non-depleting E-Sensor, the DF-140E delivers reliable readings without frequent recalibration and periodic sensor replacement.
DF-140E Specifications
Range
Ranges are available from 0-10 ppm to 0-25%Sample Gas Compatibility
STANDARD SENSOR: All inert and passive gases including N2, CO, H2, Ar, freons, hydrocarbons, etc.
SENSOR WITH Stab-ElT OPTION: Neutralizes trace contaminants including acids such as CO2, H2S, NOX, SOX, etc. (Consult Delta F for concentration limits.)
Options
CE Certification
Stab-ElT Acid Gas System
Oxygen Alarms
Sample Pump
Flow Alarm
Three range
Isolated 4-20 mADC output
Remote Sensor Heater
Accuracy
(at constant temperature)
Greater of ▒3% of reading or 0.5% of range
Response Time
Responds instantaneously to O2 change. Equilibrium depends on specific conditions. Typically <10 seconds to read 90% of a step change.
Sample Requirements
Gas phase, non-condensing, 0░ to 50░ C (32░ to 122░F)
Flow should be 1.0 to 3.0 scfh at 0.2 to 1.0 psig pressure.
Misc.
35.6 cm W x 33.5cm H x 29.0cm D 13.6kg. (14.0"W x 13.18"H x 11.42"D 30 lbs.)
Operate between 0░ and 45░ C ambient (32░ and 120░ F)
115 VAC or 220 VAC at 25 Watts
For more information, click here to view the DF-140E datasheet pdf.