Oxygen Analyzing Products:
DF-560 NanoTrace II

DF-550 NanoTrace
DF-310E

DF-320E

DF-330E

DF-340E

DF-370E

DF-110E

DF-130E

DF-140E NEMA 4X

DF-150E

Series 500 Breathing Air Monitor

Moisture Sensing Products:
DF-760 NanoTrace Dual Mo. and Oxygen An.

DF-745 NanoTrace Mo.An. 2 ppb LDL

DF-740 NanoTrace Mo.An. In Ammonia

DF-730 NanoTrace Mo.An. In HCI

Ultra High Purity Gas Cromatographs:
Ta3000F Gas Purity Monitors

Ta3000R Gas Purity Monitors

Ta5000R Gas Purity Monitors

Ta5000F Gas Purity Monitors

DF-550 NanoTrace Ultra Trace Oxygen Analyzer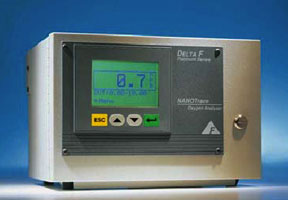 The NanoTrace provides a reliable LDL of 200 ppt in a compact, easy-to-use analyzer.
The superior NanoTrace performance features:
Superior performance for dependable measurements
Low maintenance with very low drift for infrequent recalibration
Selection of configurations, including initiation via front panel or digital interconnect, hand carry portable option
NanoTrace provides a reliable Low-detection-level of 200 ppt in a compact, easy to use analyzer. The superior NanoTrace performance has been verified by a host of independent third parties such as Air Products and Chemicals Inc. Part of the extensive APIMS testing is shown. Every NanoTrace is manufactured under ISO 9001 control and is calibrated and operated for five weeks to ensure a fast and accurate start-up at your site.
Superior Performance
The low LDL provides a large "Analytical Headroom" for dependable measurements.
Fast response provides sensitive and dependable process monitoring.
Quick upset recovery avoids "running blind" when process problems occur.
Low Maintenance
Very low drift makes the need for frequent calibrations unnecessary.
The zero purifier is used only for calibration and not to scrub the electrolyte as is common in other analyzers. Expensive and disruptive purifier replacements are not required.
Selection of Configurations
The Automatic Calibration System can be initiated at the front panel or via digital interconnect.
The Manual Calibration system can be included for "hand carry", portable operation.
The NiCad Battery and Isolation Valve options enable truly portable operation.
DF-550 Performance
Lowest Detection Level (LDL): 200 ppt
Analyzer Resolution: 100 ppt: < 20 seconds
Response Time: 0.5 ppb or ±3% of reading
Accuracy (Constant Conditions): < 15 min for high ppm upset
Upset Recovery: 0 to 20 ppb
Output Range (Lowest)
Specifications
Sample Pressure: 15 to 25 psig
Sample Flow: 1 to 3 scfh
Gas Compatibility: All inerts and passive gases including N2, He, H2, Ar, light hydrocarbons, halocarbons, etc.
Options
Automatic Calibration System
Manual Calibration System
4 - 20 mADC Output Isolation
RS232 and RS485
Up to 4 Assignable Alarm Relays
N2 Case Purge
NiCad Batteries
Flow Alarm
Scale Factor for other background gases
For more information, click here to view the DF-550 datasheet pdf.