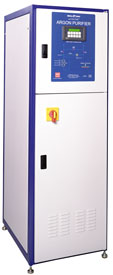 The PS5 MegaTorr Rare Gas purifiers are heated getter-based purifiers designed specifically to provide ultra-high purity (UHP) gas for semiconductor applications.
The patented getter alloy operates at elevated temperatures to remove impurities by forming irreversible chemical bonds. Impurities removed will not be released under any circumstances when the purifier is operated within specification. Outlet impurity levels for O
2
,H
2
O, CO, CO
2
, H
2
, CH
4
, and N
2
are reduced to parts per billion concentrations.
Downstream of the heated getter columns, Hydrogen impurities are removed by a patented secondary ambient temperature getter cartridge, known as the Hydrogen Removal Unit (HRU).
Fully automatic operation is provided standard with the microprocessor-based controller and full instrumentation. Multi-tiered fault protection keeps gas flowing while alerting the operator of any problems. Long getter life is achieved through efficient getter bed designs, which safely optimize operating temperature, bed dimensions and flow rates. For the PS5 platform only electrical power and pneumatic air supply is needed to operate the purifier.
The PS5 can be installed into small areas because of the compact design and front/rear access (zero-side clearance acceptable). The PS5 comes standard with GettSafe™ – the state-of-the-art solution to fast-response thermal protection. GettSafe quickly detects excessive heat in the getter column, and the built-in discrete hardware interlock takes action to isolate the purifier.
FEATURES
STANDARD FEATURES
Fully Automated Microprocessor Controller
Human Machine Interface (HMI)
High Temperature Hardware Interlock
GettSafe™ high temperature safety shutdown system
Metal 0.003µm Particle Filter
Inlet and Outlet sample ports with isolation valves
Instrument Air Pressure Switch
Automatic Bypass
Gas to Gas Heat Exchanger
Electric Gas Preheater System
Air Cooled Heat Exchanger
All Metal cabinet with doors
Alarm relay, life status indicator relay, remote contact shutdown, gas relay
Relief valve
CE Marking
OPTIONAL EQUIPMENT
Inlet and Outlet isolation valves
Inlet mass flow meter
Instrument Air Management System
Color Human Machine Interface
Manual bypass valve
Pneumatically actuated manual bypass valve
Separate control power
Emergency off button
Uninterruptible Power Supply
Ground fault protection
MODBUS data communication port
PS5 Performance
Gases Purified
Impurities Removed
Outlet Performance
He, Ar
H2O, O2, CO, CO2, H2, N2, CH4
< 1 ppb
Note: Purifiers are gas specific and should only be used for the gas indicated
PS5 Specifications
Model
Maximum Flow (Nm3/hr)
Average Power Consumption (kW)
Maximum Pressure Drop (bar)
Dimensions (cm)
Weight (kg)
H
W
D
PS5-MGT15-R
15
1
0.7
185
61
89
204
PS5-MGT30-R
30
1.5
0.7
185
61
89
204
PS5-MGT50-R
50
2.5
1
185
61
89
240
PS5-MGT100-R
100
5
1
185
120
89
500
PS5-MGT150-R
150
7.5
1
185
180
89
750